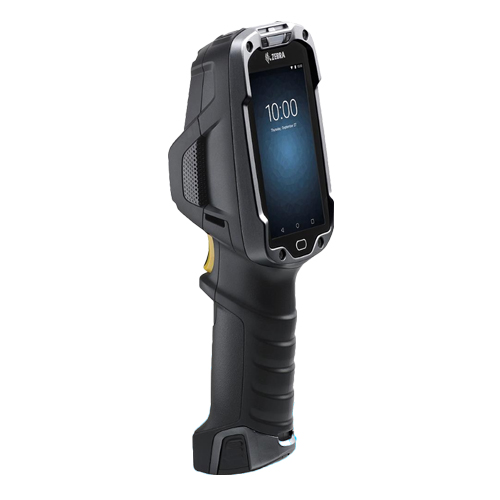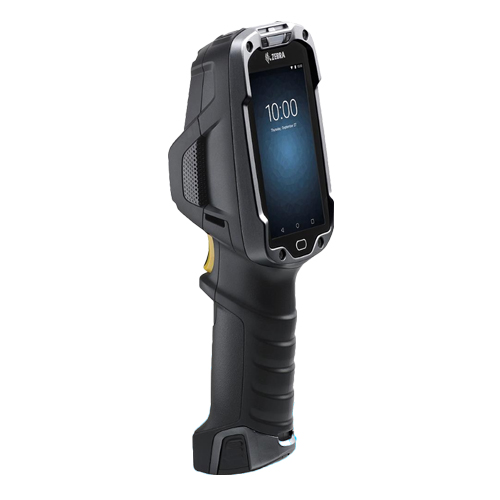 Zebra TC8300 Mobile Computer
---
Scanner Type

2D Area Imager

Scan Range

Long Range

Form Factor

Gun Style

Interface

Bluetooth

NFC

Wireless LAN

IP Rating

IP65

Durability

Rugged

Operating System

Android

User Input

Touchscreen

Screen Resolution

800 x 480

Features

Microphone

Camera

GMS

Regional Compatibility

North America Only
---
Product Highlights
Zebra TC8300, WLAN, Bluetooth, NFC, 2D Imager, SE4850, Extended Range, 4" display, 7000MAH Battery, Android GMS, 4GB RAM/32GB FLASH, North America

Spec. Sheet
---
Frequently Bought Together
Zebra Technical & Software Support (TSS) Required for Security Updates: Buy 1 Year | 3 Years | 5 Years
---
Zebra TC8300 Touch Computer
The revolutionary enterprise touch computer with the ultimate Android platform
Zebra took the TC8000, the world's most revolutionary enterprise touch computer design, and made it better. You get the same innovative ergonomic design that minimizes motion to deliver a 14 percent boost in worker productivity. Zebra added the ultimate in processing power and memory to give your workers the lightning-fast application performance they expect. The latest in WiFi and Bluetooth technology provides your workers with the fastest and most dependable wireless device and peripheral connections, maximizing availability - and value. Comprehensive data capture options let you capture it all - barcodes, direct part marks, entire forms and more. And when it comes to Android, the TC8300 simplifies every aspect of deploying Android in your warehouse - including migration and security as well as control over updates and Google Mobile Services.
Instantly migrate your TE apps to Android, right out of the box
With the TC8300, your users can simply use your existing TE apps - no backend modification or user training required. When you're ready, you can easily turn your green screens into Android touch-centric intuitive screens that boost productivity with All-touch Terminal Emulation (TE) - no coding required.
Longer WiFi range and speed - with less power
2x2 Multiple-User Multiple Input Multiple Output (MU-MIMO) technology allows access points to communicate with multiple devices simultaneously via pinpoint beamforming, boosting WiFi network capacity, speed and range. And processing is shifted from the mobile device to the access point, extending battery cycle time.
Bluetooth 5.0 - twice the speed, four times the range, less power
Get better performance from your Bluetooth printers, headsets and more, while using less power for longer battery cycle times.
Triple-shift battery power and unsurpassed battery management
With the most battery power in this class, the TC8300 can run for three consecutive shifts without a battery change. And extensive battery metrics that make it easy to spot and retire aging batteries that can no longer hold a full charge.
A lifetime security guard for Android
With LifeGuard for Android, you get the security updates you need to keep your Zebra Android devices secure every day they are in service - along with easy end-to-end control of the OS update process, plus support for the next two versions of Android (P and Q).
Get the Ultimate Android Platform
Android for instant familiarity
You get all the benefits of the latest version of Android, and your workers get a device they already know how to use - virtually eliminating training time and adoption curves.
Maximum power for maximum application performance
Get all the power you need to ensure superior performance on all your voice and data apps with the ultra-powerful 8-core processor, plus up to eight times the RAM and 32 times the Flash memory of the prior generation TC8000. And the advanced memory architecture delivers 10 times the typical memory lifespan.
Provide the Ultimate User Experience
Superior ergonomics for superior productivity and comfort
The innovative scan angle eliminates the constant tilting that traditional designs require to view the screen and enter data, increasing productivity by 14% through a 55% reduction in wrist motion and a 15% reduction in muscle effort.
Flawless capture of every barcode
Give your workers first-time every-time capture of virtually any barcode in any condition with our advanced scan engines. And with five options, there is a scan engine that is perfect for your apps. The SE4850 Extended Range Imager allows you to scan 1D and 2D barcodes over an unmatched range - from 3 in./7.62 cm to 70 ft./21.4 m away - up to 60% closer and 35% farther than the competition. The industry-leading field of view enables the capture of wide 4 in./ 10.16 cm wide barcodes as close as 7 in./17.78 cm - nearly one third of the distance of competitive devices. Our SE4750 SR and MR imagers are ideal for standard and mid-range scanning. The SE4750 DP enables dependable lightning-fast capture of virtually every direct part mark. And our tried and true 1D SE965 engine offers Adaptive Scanning technology that delivers the widest working range in its class.
The ultimate rugged design for the ultimate dependable operation
The TC8300 is built for day-in day-out operation in even the most challenging warehouse environments. With our most extreme impact ratings, the TC8300 continues to run, even after 2,000 consecutive tumbles and multiple 8 ft./2.4 m drops to concrete. This dustproof device can also handle jetting water, refrigerated storage areas and constant temperature swings between extreme heat and subzero cold - ideal in outside yards. And Corning Gorilla Glass brings maximum scratch-and-impact resistance to two of the most vulnerable device components - the touchpanel and scanner exit window.
industry-first hands-free proximity scanning with a handheld device
The proximity sensor automatically triggers scanning, whether the TC8300 is worn on the hip or shoulder strap or placed in a cart or on a desktop. Two modes are available - close-up scanning from near contact to 6 in./15 cm and from contact to 1.96 ft./60 cm
Advanced touchscreen technology for flexible data input
Give your workers the best touchscreen experience. The 4 in. display offers plenty of space for graphics-intensive intuitive applications. Users can interact with applications with a finger - even with a glove - or a stylus.
$19.13

Limited Availability