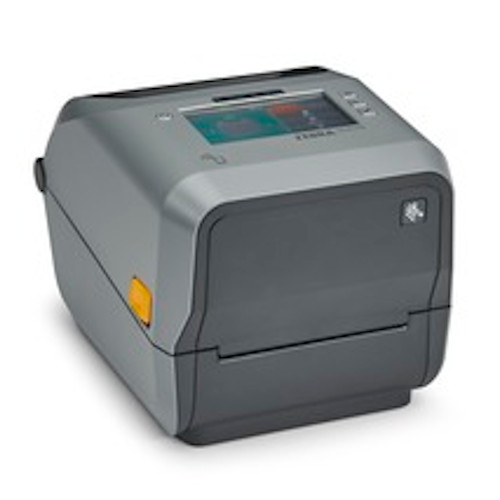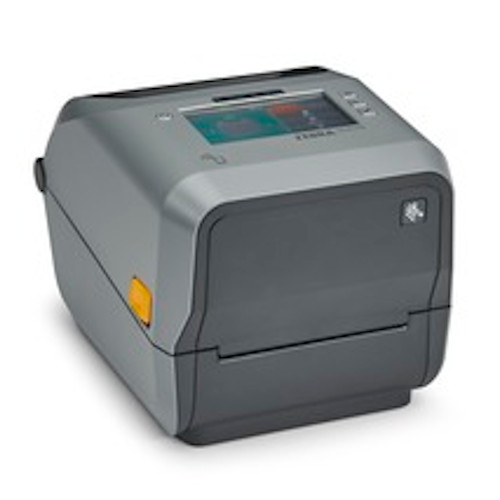 Zebra ZD621R RFID Printer
---
Printer Type

Desktop

RFID

Print Technology

Thermal Transfer

Interface

Bluetooth 4

Bluetooth

Serial

USB

Ethernet

Wireless LAN

dpi (dots per inch)

300dpi

Core Size

1.00 inch

Printer Options

LCD Display

RFID Encoder

Max Media Width

4.0-4.9 inch

RFID Frequency

UHF

Regional Compatibility

US Only

Canada Only

Printer Language

EZPL
---
Product Highlights
Thermal Transfer and Direct Thermal Printer (74/300m), ZD621R, Color Touch LCD, 300 DPI, USB, UAB Host, Ethernet, Serial, Wireless, Bluetooth 4, USA/Canada, RFID - UHF, Includes: Dispenser(Peeler), US Cord, Swiss Font, EZPL
Thermal Transfer

Spec. Sheet
ZD621R 4-inch Desktop Printers
Premium features, maximum performance, RFID capabilities and unmatched security for years of use
You need a premium, quality RFID printer that's built to perform flawlessly—day in and day out. Rely on Zebra's ZD621R desktop printer, including RFID printing/encoding, advancing the proven and popular ZD500R. Get it all: an innovative new architecture to power our ever-expanding printer capabilities and software. RFID printing and encoding capabilities in a compact desktop printer. Unmatched security that's constantly evolving to safeguard your sensitive data and shield you from cyberattacks. A new standard 4.3-inch, full-color LCD touch display with intuitive menu. Enhanced features, communication and field-installable media-handling options. And, increased remote-management capabilities. Together, these give you outstanding print performance and industry leading reliability for years of optimal use, and unparalleled intelligence and security to keep you moving forward.
Elevating a Proven Winner
Extending the ZD500R Legacy :Zebra's ZD500R printer/encoder is known for quality, premium performance. You can be confident the next-generation ZD621R includes everything you loved in the legacy printer, and builds on this heritage to deliver best-in-class features and RFID technology for this new era of intelligence.
Zebra RFID: More Transformation, No Complication
Print and Encode with Ease: The ZD621R utilizes Zebra's own RE40 RFID module to support a broad range of applications across several industries. Adaptive encoding technology allows for excellent media flexibility and simple RFID calibration, eliminating complex placement guidelines. Optimized to efficiently print and encode labels, the ZD621R gives you greater tracking abilities, deeper visibility and enterprise insights in an ever-competitive business environment.
RFID Backed by the Broadest, Field-Proven Portfolio : Zebra leverages decades of expertise, design thinking and software development to help you deliver maximum RFID gains, while minimizing the pains that can come with multi-vendor solutions. Zebra gives you the industry's broadest, field-proven RFID portfolio for unmatched accuracy and interoperability. Look to Zebra's consistent, fully scaled platform that anticipates real-world challenges and elevates the performance of every system, device, tag and worker.
Expect the Best
Premier Printing Performance :From outstanding print quality to RFID printing/encoding, portability for application flexibility to emerging technology, and field installable options, the ZD621R is a thermal transfer RFID printer that supports a wide variety of use cases and requirements.
Operate with Ease
Intuitive User Interface: Interact at a touch with the ZD621R's 4.3-inch, full-color LCD touch display. The easy-to-use menu features step-by-step setup wizards, troubleshooting animations, media-loading and calibration guidance, and supports standalone printing applications. The display also changes color to show printer status at a glance. And, color-coded touch points guide users through media handling tasks for speedy media changes. Zebra touchscreens are designed and tested for toughness and reliability, including robust tolerance to temperature, humidity, dust and other environmental challenges.
Backwards Compatible with Virtually Any Existing Thermal Printer : Use the same label formats and applications you're using today. It supports both EPL and ZPL printer languages, and can emulate languages normally associated with other printer brands using Zebra's Print DNA tool Virtual Devices.
Connect Your Way with Comprehensive Communication: Integrate your ZD621R onto your existing wired and wireless networks or connect it directly to any PC. Every ZD621R comes with Ethernet, Serial, USB 2.0 and USB Host, or add an optional dual wireless radio with fast 802.11ac Wi-Fi and Bluetooth 4.1. Print from any Windows, Android or iOS device, and utilize Zebra's printer setup mobile app using Bluetooth Low Energy (BLE)
Print DNA Software Suite, Your Built-In Advantage
Print Securely and Confidently, Without Hassles : Print DNA suite of software, powered by our Link-OS operating system, will get your printer up and running quickly and securely. Print consistently, and uninterrupted with a solution that enables your printer to evolve with your business needs.
Update, Troubleshoot and Monitor – All From a Single Location With Zebra's Printer Profile Manager Enterprise, part of Print DNA, manage all printers anywhere in the world remotely from one location.
Unparalleled, Peace-of-Mind Printer Security Shield yourself from cyberattacks with Zebra's PrintSecure, part of Print DNA. Easily configure your printers via secure connection
Zebra 6 Foot USB Cable

( SKU: 105850-006 )

Zebra, Accessory, USB Interface Cable, 6 Foot A To B (2824, 2844, 3842, HT146)

Zebra Spare Part

( SKU: P1080383-224 )

Bearings for the Platen Roller, Zebra Spare Part, Kit, (Left and Right 10 of Each), ZD220d&t, ZD230d&t, ZD888d&t, ZD420d&t, ZD620d&t
Zebra OneCare Essential

( SKU: Z1RE-ZD6X1-1C0 )

Zebra Warranty, OneCare Essential Service Contract, Renewal, ZD611d, ZD611t, ZD611R, ZD621d, ZD621t, ZD621-RFID, 1 Years, Comprehensive

Zebra OneCare Essential

( SKU: Z1RF-ZD6X1-1C0 )

Zebra Warranty, OneCare Essential Service Contract, Renewal, Next Business Day Turn-Around Time, North America and Mexico Only, ZD611d, ZD611t, ZD611R, ZD621d, ZD621t, ZD621-RFID, 1 Years, Comprehensive

Zebra OneCare Select

( SKU: Z1RS-ZD6X1-1C0 )

Zebra Warranty, OneCare Select Service Contracts, Renewal, Advanced Exchange, ZD611d, ZD611t, ZD611R, ZD621d, ZD621t, ZD621-RFID, 1 Years, Comprehensive

Zebra OneCare Select

( SKU: Z1RZ-ZD6X1-1C0 )

Zebra Warranty, OneCare Select Service Contracts, Renewal, Advanced Exchange (NA and MX Only), Includes Zebra Procured Spare Pool, ZD611d, ZD611t, ZD611R, ZD621d, ZD621t, ZD621-RFID, 1 Years, Comprehensive

Zebra OneCare Essential

( SKU: Z1BE-ZD6X1-1C0 )

Zebra Warranty, OneCare Essential Service Contract, Pre-Owned, ZD611d, ZD611t, ZD611R, ZD621d, ZD621t, ZD621-RFID, 1 Years, Comprehensive