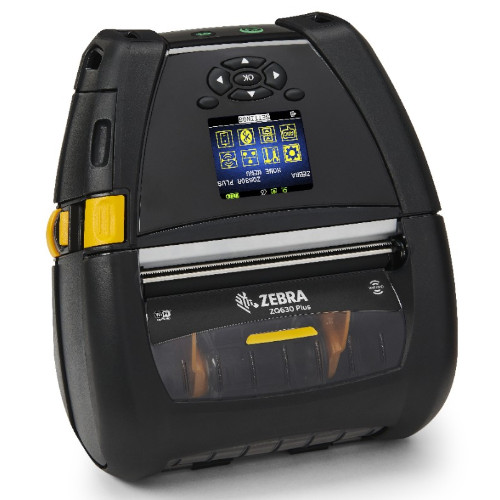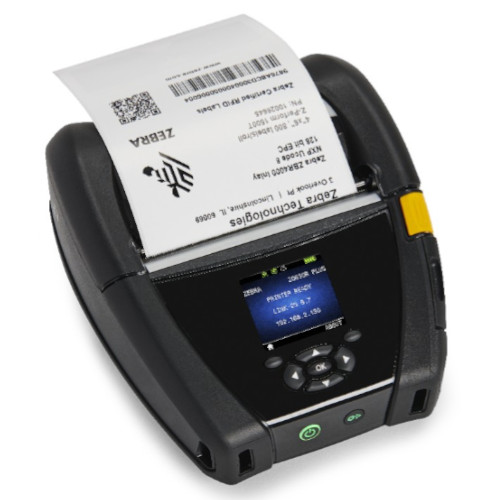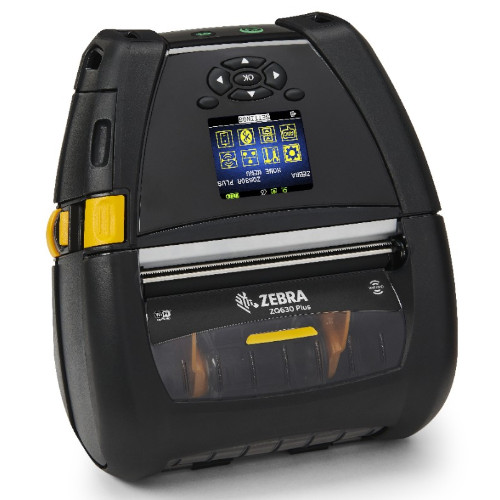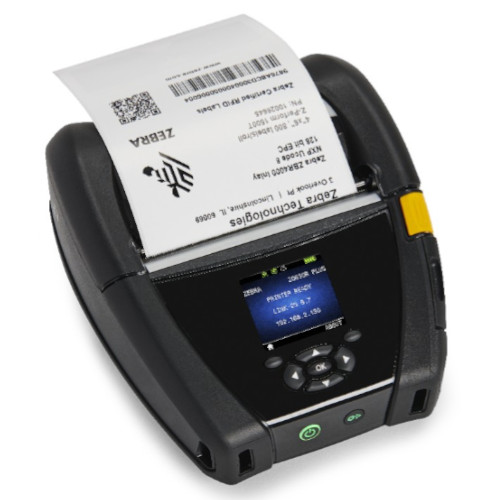 Zebra ZQ630 Plus RFID DT Printer [203dpi, WiFi, Battery, RFID Encoder]
---
Printer Type

RFID

Mobile

Receipt

Print Technology

Direct Thermal Only

Interface

Bluetooth

Bluetooth 4

Serial

USB

Wireless LAN

USB-B

Features

Wearable

dpi (dots per inch)

203dpi

Core Size

0.75 inch

Printer Options

LCD Display

Battery

RFID Encoder

Max Media Width

4.0-4.9 inch

RFID Frequency

UHF
---
Product Highlights
Zebra, Printer, ZQ630 Plus, Direct Thermal, 203DPI, RFID, English Fonts, Dual 802.11AC / Bluetooth 4.X, Linered Platen, 0.75 inch Core, Group 0, Includes: Belt Clip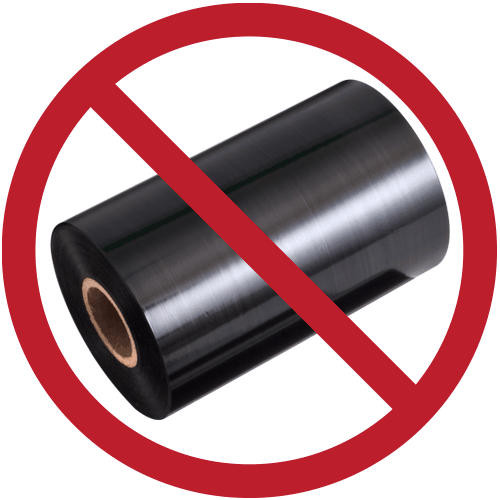 Direct Thermal Only

Spec. Sheet
---
Frequently Bought Together
Zebra ZQ630 Plus RFID Mobile Printer
Maximize productivity, operations and customer service with Zebra ZQ630 Plus RFID mobile printers. From the manufacturing and warehouse floors to the retail store, to the healthcare facility and on the go in transportation & logistics applications, your team can print labels, tags and receipts—right on the spot. Makes it even better, adding advanced technology — including RFID — and innovative design that drive productivity, ease-of-use and manageability to a new level. RFID setup is simple with automatic calibration features that eliminate complex RFID placement guidelines. Save time, reduce errors, print and encode RFID labels and tags on the spot with ease.
Instant Wake-Up Over Wi-Fi
This intelligent printer enters sleep mode when it is idle, and automatically wakes up the moment the user sends a print job. And the Zebra ZQ600 Plus Series' instant wake-up works over both Wi-Fi and Bluetooth.
Large Color Display Makes Configuration and Operation a Snap
The Zebra ZQ600 Plus Series provides a large display, userfriendly interface and easily customized menu. The Zebra ZQ600 Plus Series is based on Zebra's Link-OS menu system to deliver a common user experience across other Zebra Link-OS mobile, desktop and industrial printers.
Business Tough—Built for All-Day Every Day Enterprise Use
While the Zebra ZQ600 Plus Series is lightweight and comfortable to wear all shift long, it is loaded with features that give it longlasting durability, including over-molding, a tempered-glass display and seamless one-piece design. The high-grade resin is one of the toughest plastics available for greater impact resistance.
Do More on a Single Charge
With the Zebra ZQ600 Plus Series' high-capacity 3250 mAH (ZQ610 and ZQ610 Plus / ZQ620 and ZQ620 Plus) and 6800 mAH (ZQ630 and ZQ630 Plus) battery, you can be sure that every worker has plenty of power for every shift. Plus Power Smart Print Technology™, Zebra's patented technology, maximizes efficiency by delivering the exact amount of power required for the highest quality printing, saving an estimated 20 to 30 percent of battery power.
The Latest Wireless Connections
The Zebra ZQ600 Plus Series offers the fastest, most dependable wireless connections inside the four walls. With support for 802.11ac Wi-Fi and its latest security protocols, plus Bluetooth® Classic and Low Energy (BLE), your workers can count on blazing fast and secure connections.
Industry-Standard 802.11r Fast Roaming for Seamless Access
With support for 802.11r fast roaming technology, your workers can depend on a connection while they are on the move.
Extraordinary Battery Management Capabilities
The Zebra ZQ600 Plus Series' PowerPrecision+ battery delivers the ultimate in battery power and management. A wealth of easily accessible battery metrics makes it easy to identify aging batteries before they impact productivity.
Zebra Print DNA–Your Printers' Built-In Advantage
Print DNA's suite of software capabilities leverages everything we've learned about technology, users and thousands of use cases. Stay a step ahead with remote management tools, heightened security, and ongoing updates that enable your printers to work at their highest potential.
Robust Memory to Support Applications Today and Tomorrow
The Zebra ZQ600 Plus Series offers 256 MB RAM and 512 MB Flash—providing more than enough memory for all your fonts and graphics needs today, as well as all the firmware upgrades and new Print DNA tools for years to come.
Resolve Problems Faster with the Ethernet Cradle
Remote management is easy with the Zebra ZQ600 Plus Series' Ethernet Cradle. By docking the printer in the cradle at the end of every shift, IT can remotely upgrade the firmware as needed to ensure that each printer is operating at peak performance. Should employees experience a problem, they can simply dock the printer into the cradle for a remote diagnosis—eliminating the downtime and costs associated with shipping a printer to the repair depot when nothing is physically wrong.
Easily Manage All Your Printers—All from a Single Location
With our comprehensive and flexible remote management tools, you can maintain, secure and troubleshoot printers simply and easily, from anywhere, anytime. Use the free Printer Setup Utilities to simplify setup and out-of-the-box configuration tasks. And with the optional Printer Profile Manager Enterprise, you can manage one printer, a group of specific printers or all printers anywhere in the world. This browser-based solution lets you instantly discover every Link-OS printer on your network—there's no need to manually track down, configure or troubleshoot printers.
Seamless Integration with Your Device Management System
Get the simplicity of a single-pane-of-glass to manage all your Zebra mobile devices and printers—including the Zebra ZQ610 Plus Series. With Print DNA's MDM Connectors, you can easily integrate networked Zebra ZQ610 Plus Series printers into your existing AirWatch or SOTI MobiControl device management system. And if you are using Ivanti Avalanche (powered by Wavelink), the Zebra ZQ610 Plus Series offers support for Avalanche right out of the box.
Protect Sensitive Customer and Business Data with PrintSecure
This complimentary Print DNA utility makes it easy to configure over 30 settings to fine-tune printer security to protect your data and your infrastructure by creating secure printer connections and blocking unauthorized printer access.
Zebra QLn PC-USB cable

( SKU: P1031365-055 )

Zebra, Accessory, Kit QLN/ZQ6 PC-USB Cable, 6' (With Strain Relief)

Zebra Cable

( SKU: P1031365-052 )

Zebra, Accessory, Kit QLN/ZQ6/ZQ6 Plus Serial Cable (With Strain Relief)

Zebra Serial Cable

( SKU: P1031365-053 )

Zebra, Accessory, Kit QLN/ZQ6/ZQ6 Plus Serial Cable, 6' (With Strain Relief) PC-DB9
Zebra OneCare Essential

( SKU: Z1RE-ZQ6X-1C0 )

Zebra Warranty, OneCare Essential, Renewal, ZQ600, 1 Years, Comprehensive

Zebra OneCare Select – ZQ600

( SKU: Z1RS-ZQ6X-1C0 )

Zebra, Warranty, OneCare, Select, Renewal, Advanced Exchange (Select Countries Only), ZQ600, 1 years, Comprehensive

Zebra OneCare Essential

( SKU: Z1BF-ZQ6X-1C0 )

Zebra Warranty, OneCare Essential, Purchased After 30 Days of Printer, NBD Tat, Na Mx Only, ZQ600, 1 Years, Comprehensive

Zebra ZQ6XX OneCare Essential

( SKU: Z1BE-ZQ6X-1C0 )

Onecare Essential, Warranty, Zebra Service ZQ600, Purchased After 30 Days of Printer, 1 Years, Comprehensive

Zebra OneCare Select

( SKU: Z1BS-ZQ6X-1C0 )

Zebra Warranty, OneCare Select, Purchased After 30 Days of Printer, Advanced Exchange (Select Countries Only), ZQ600, 1 Years, Comprehensive