Zebra ZQ610 DT Printer [203dpi, WiFi, Battery]
---
Printer Type

Mobile

Receipt

Print Technology

Direct Thermal Only

Interface

Bluetooth

Bluetooth 4.1

Serial

USB

Wireless LAN

USB-B

Features

Wearable

dpi (dots per inch)

203dpi

Core Size

0.75 inch

Printer Options

LCD Display

Battery

Max Media Width

2.0-2.9 inch

Printer Language

CPCL

ZPL
---
Product Highlights
Zebra ZQ610 Direct Thermal Only Portable Label And Receipt Printer; 203DPI, 2-Inch Max Print Width, CPCL, ZPL, 802.11AC/Bluetooth 4.1, Direct Thermal Only/Linered Platen, 3/4" Core, English, Grouping 0, Includes: Battery, Belt Clip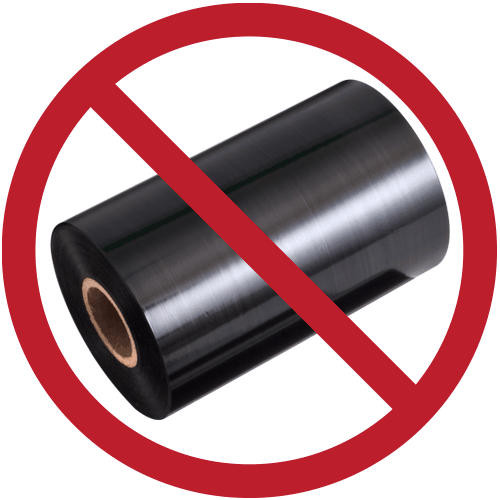 Direct Thermal Only

Spec. Sheet
---
Frequently Bought Together
Zebra ZQ610 Portable Printer
Introducing the ZQ600 Series Premium Mobile Printers. We took the highly successful QLn series and made it better. With over one million QLn printers sold to date, the ZQ600 Series is based on a well-proven platform, and adds all of the latest mobile printing features. The ZQ600 Series is also backwards compatible with QLn series, including all accessories, cables, and media, making this platform a no-risk upgrade to the latest in mobile printing technology. When you are looking for a reliable, durable, fast, and long-lasting mobile printer, the ZQ600 series is the perfect choice. The ZQ600 series offers a color display, double the memory, intelligent sleep mode, full-shift battery power, and a faster, more secure wireless connection. The ZQ600 series is an advanced mobile printing platform that was designed to grow with your business.
ZQ600 Series Mobile Printers
PREMIUM MOBILE LABEL AND RECEIPT PRINTERS FOR MAXIMUM PRODUCTIVITY, EASE OF USE AND MANAGEABILITY
Want to improve inventory management and customer service in your store? With the ZQ600 Series mobile printer, you can. The ZQ600 takes Zebra's popular QLn platform and makes it even better — adding advanced technology and innovative design that drive productivity, ease-of-use and manageability to a new level. A large color display takes all the guesswork out of printer status. Advanced battery technology and more battery capacity power every minute of the longest shift. The instant wake-up feature ensures the ZQ600 never sleeps on the job. Your workers get the fastest, most dependable wireless connections inside the four walls and your IT department will find the ZQ600 easier to integrate, manage, setup and secure thanks to Zebra's Link-OS® operating system and powerful Print DNA suite of applications, utilities and developer tools. The ZQ600 Series — the next evolution in the gold standard for mobile label and receipt printing.
Large color display makes configuration and operation a snap
It's easy to set up and maintain the ZQ600 Series with its large display, user-friendly interface and easily customized menu. The display changes color when the printer is paused or in an error state, such as out of media or latch open, so users instantly know what the printer needs to stay up and running. And since the ZQ600 Series is based on Zebra's Link-OS menu system, you'll get a common UI and user experience across other Zebra Link-OS mobile, desktop and industrial printers to lower the learning curve.
Business tough — built for all-day every day enterprise use
While the ZQ600 is lightweight and comfortable to wear all shift long, it is loaded with features that give it long-lasting durability, including over-molding, a tempered-glass display and seamless one-piece design. The high-grade resin is one of the toughest plastics available for greater impact resistance. And multiple mechanical design improvements further increase printer robustness and uptime.
Premium Features for Maximum Productivity
The latest wireless connections for fast, reliable, and secure printing
Zebra printers are known for leading the market in wireless technology and the ZQ600 Series offers the fastest, most dependable wireless connections inside the four walls. With support for 802.11ac Wi-Fi and its latest security protocols, plus Bluetooth 4.1 Classic and Low Energy, your workers can count on blazing fast and secure connections.
Industry-standard 802.11r fast roaming for seamless access
Retail workers rarely stand still. With support for 802.11r fast roaming technology, your workers can depend on a connection while they are on the move.
The industry's only instant wake-up over Wi-Fi
Forget about frustrating printer reboot times that drain productivity. You can be sure that the ZQ600 Series is ready whenever workers press 'print'. This intelligent printer enters sleep mode when it is idle, and automatically wakes up the moment the user sends a print job — delivering instant availability and maximum power efficiency. And unlike other mobile printers, the ZQ600's instant wake-up works over both Wi-Fi and Bluetooth.
Superior Battery Power and Power Management
The highest capacity battery in its class
Your workers depend on their mobile printers nearly every minute of the day. With the ZQ600's high capacity 3250mAH battery, you can be sure that every worker has plenty of power for every shift.
Do more on a single charge with Zebra's Power Smart Print Technology™
This patented Zebra technology maximizes efficiency by delivering the exact amount of power required for the highest quality printing. Printers with PSPT save an estimated 20 to 30 percent of their battery power, so users can do more on a single charge.
Extraordinary battery management capabilities with PowerPrecision+ technology
The ZQ600 Series' PowerPrecision+ battery delivers the ultimate in battery power and management. A wealth of easily accessible battery metrics makes it easy to identify aging batteries before they impact productivity. You can be sure that every worker starts every shift with a healthy and fully-charged battery. And better visibility into battery health means you can reduce the size of the spare battery pool.
Zebra QLn PC-USB cable

( SKU: P1031365-055 )

Zebra, Accessory, Kit QLN/ZQ6 PC-USB Cable, 6' (With Strain Relief)

Zebra Cable

( SKU: P1031365-052 )

Zebra, Accessory, Kit QLN/ZQ6/ZQ6 Plus Serial Cable (With Strain Relief)

Zebra Serial Cable

( SKU: P1031365-053 )

Zebra, Accessory, Kit QLN/ZQ6/ZQ6 Plus Serial Cable, 6' (With Strain Relief) PC-DB9
Zebra ZQ6XX OneCare Essential

( SKU: Z1BE-ZQ6X-1C0 )

Onecare Essential, Warranty, Zebra Service ZQ600, Purchased After 30 Days of Printer, 1 Years, Comprehensive

Zebra OneCare Essential - ZT600

( SKU: Z1AF-ZQ6X-3C0 )

Warranty, Zebra OneCare, Essential, Purchased Within 30 Days Of Printer, NBD TAT, NA MX Only, ZQ600, 3 Years, Comprehensive

Zebra OneCare Select - ZQ600

( SKU: Z1AZ-ZQ6X-3C0 )

OneCare, Select (Zebra Owned Pool), Purchased Within 30 Days Of Printer, Advanced Exchange (Select (Zebra Owned Pool) Countries Only), ZQ600, 3 Years, Comprehensive

Zebra OneCare Essential - ZQ600

( SKU: Z1AE-ZQ6X-3CM )

OneCare, Essential, Purchased Within 30 Days Of Printer, ZQ600, 3 Years, Comprehensive With Battery Maintenance (Applicable Countries Only)