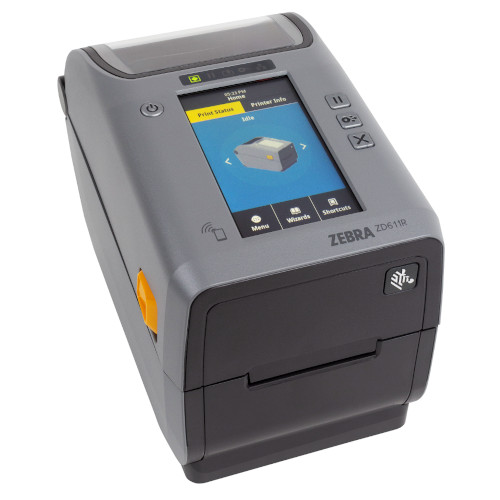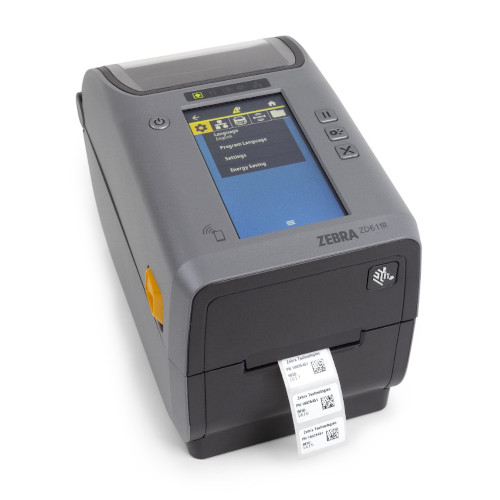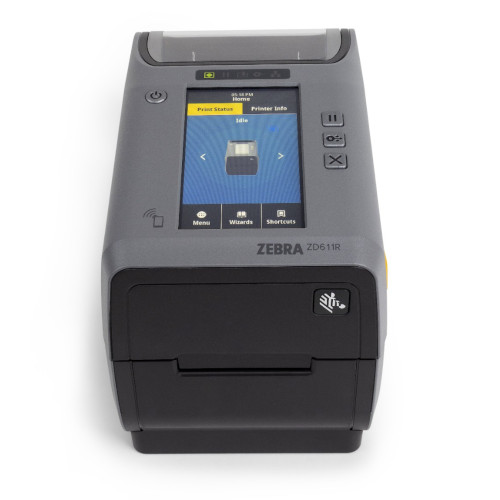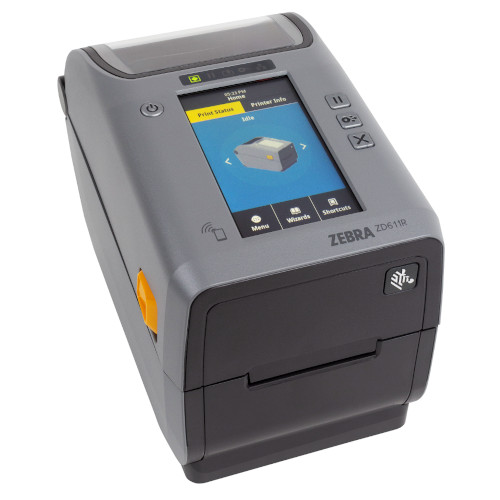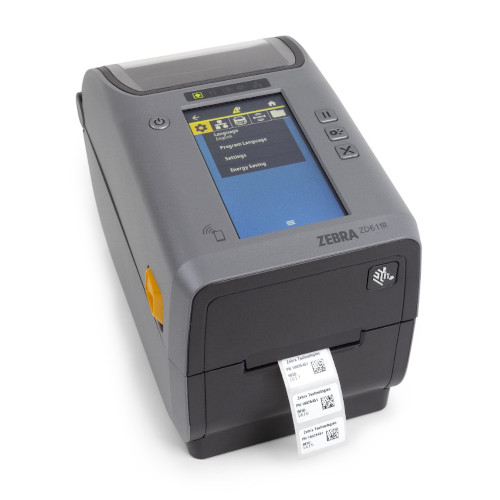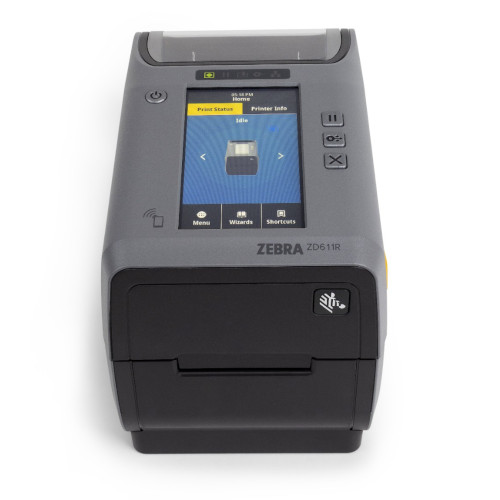 ---
Printer Type

RFID

Desktop

Print Technology

Thermal Transfer

Interface

BTLE5

USB

Ethernet

USB-A

dpi (dots per inch)

300dpi

Core Size

1.00 inch

Printer Options

LCD Display

Real-Time Clock

RFID Encoder

Touch Display

Max Media Width

2.0-2.9 inch

Regional Compatibility

US Only

Canada Only

Printer Language

EZPL
---
Product Highlights
Zebra, ZD611R, Thermal Transfer/Direct Thermal Desktop Printer, Color Touch LCD, 300DPI, USB, USB Host, Ethernet, BTLE5, USA/Canada, RFID - UHF, EZPL, Includes: US Cord
Thermal Transfer

Spec. Sheet
Zebra ZD611 RFID Premium Printing, Performance and RFID Capabilities in a Compact Footprint
The Zebra ZD611R is the industry's only 2-inch UHF RFID model with best-in-class features, next-generation technology, unmatched security and maximum performance in a compact footprint for years of hassle-free reliability. Featuring Zebra's RE40 RFID module and adaptive encoding technology, the ZD611R supports a broad range of applications, is simple to calibrate and allows for excellent media flexibility. Make changes and see status quickly with the 4.3-inch, full-color LCD touch display.
Don't compromise. Your customers get it all with Zebra's premium desktop RFID printers/encoders, built to deliver superior operation.
Innovative Features of the ZD611R Desktop Printer
RFID without complication
Help your customers implement RFID from the industry's broadest, field-proven portfolio. The ZD611R delivers premium printing and encoding in a compact desktop footprint. Featuring Zebra's exclusive RE40 RFID module with adaptive encoding technology, it's easy to calibrate and includes a 4.3-inch full-color touch LCD display standard.
Engineered to be easy and secure
The ZD611R is intuitive and frustration-free—for every user. With the touch display, setup wizards and Print DNA, it's easy to install and start printing quickly. Manage onsite or remotely using the robust, web-based management tool. Use Print Touch with NFC to pair and print or access how-to-videos. Plus, PrintSecure provides unmatched security for peace-of-mind protection.
Best-in-class features
The ZD611R offers premium features, including a full-color touch LCD display with intuitive menu, movable sensor for greater media flexibility, media dancer for excellent print quality, fast print speed, and Ethernet, USB and USB Host. Also, the ZD611R includes printer setup mobile app, PDF Direct, ZebraDesigner Essentials label designer, and optional 300 dpi resolution—all backed by 2-year warranty.
Supports multiple printer languages
Deploy the ZD611R into existing printer fleets with confidence. The ZD611R supports both EPL and ZPL printer languages and can even emulate other printer languages using Printer Emulations, part of Zebra's Print DNA. Also, customers can keep using their current label formats and applications—no modification needed.
Flexibility to grow
With field- or factory-installable dual-radio 802.11ac + Bluetooth wireless and Serial connectivity, and peeler and cutter media handling options, the ZD611R meets your customer's business' needs. Plus, the battery pack accessory turns the ZD611R into a transportable printing solution.
Ready for tomorrow's technology
Technology is constantly and rapidly advancing. Replacing outdated equipment is costly. Be ready for what's next with the intelligent printer that's engineered to evolve. The ZD611R includes a new innovative architecture to power ever-expanding printer capabilities and on-going software updates to support new features.
Zebra Power Supply

( SKU: P1117258-012 )

Zebra, Part, Kit, Power Supply, 50W, 24V, USA Cord and EU Cord, ZD411D, ZD611D, ZD411T, ZD611T, ZD611R
Zebra OneCare Essential

( SKU: Z1RE-ZD6X1-1C0 )

Zebra Warranty, OneCare Essential Service Contract, Renewal, ZD611d, ZD611t, ZD611R, ZD621d, ZD621t, ZD621-RFID, 1 Years, Comprehensive

Zebra OneCare Essential

( SKU: Z1RF-ZD6X1-1C0 )

Zebra Warranty, OneCare Essential Service Contract, Renewal, Next Business Day Turn-Around Time, North America and Mexico Only, ZD611d, ZD611t, ZD611R, ZD621d, ZD621t, ZD621-RFID, 1 Years, Comprehensive

Zebra OneCare Select

( SKU: Z1RS-ZD6X1-1C0 )

Zebra Warranty, OneCare Select Service Contracts, Renewal, Advanced Exchange, ZD611d, ZD611t, ZD611R, ZD621d, ZD621t, ZD621-RFID, 1 Years, Comprehensive

Zebra OneCare Select

( SKU: Z1RZ-ZD6X1-1C0 )

Zebra Warranty, OneCare Select Service Contracts, Renewal, Advanced Exchange (NA and MX Only), Includes Zebra Procured Spare Pool, ZD611d, ZD611t, ZD611R, ZD621d, ZD621t, ZD621-RFID, 1 Years, Comprehensive

Zebra OneCare Essential

( SKU: Z1BE-ZD6X1-1C0 )

Zebra Warranty, OneCare Essential Service Contract, Pre-Owned, ZD611d, ZD611t, ZD611R, ZD621d, ZD621t, ZD621-RFID, 1 Years, Comprehensive