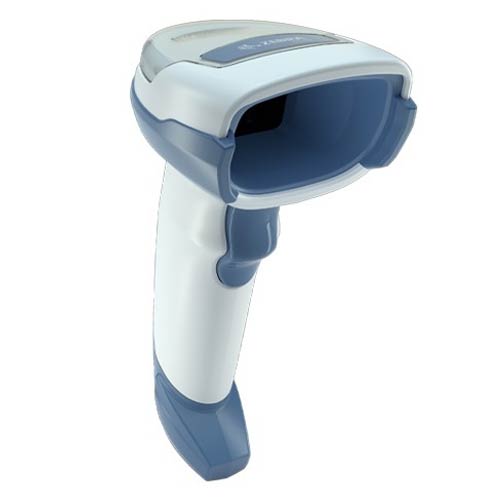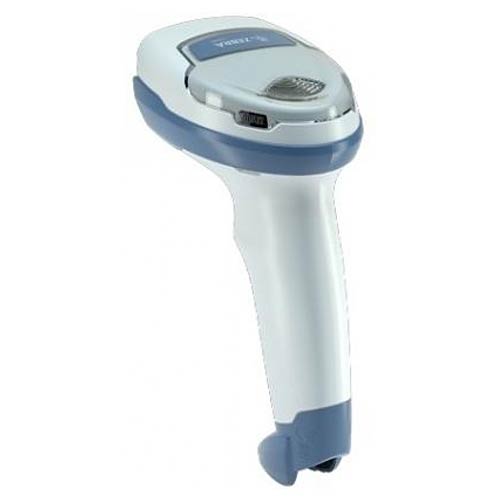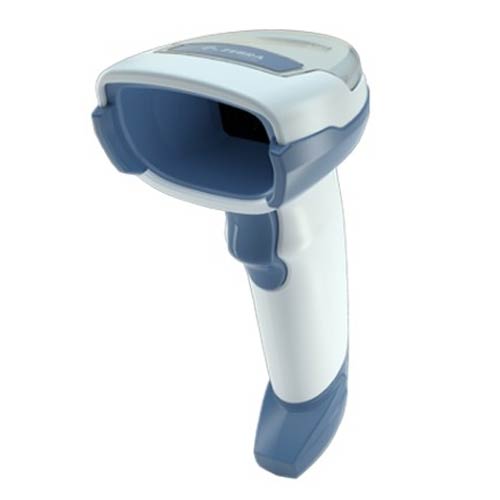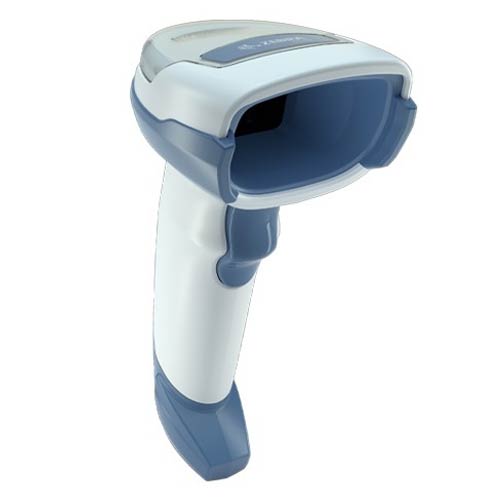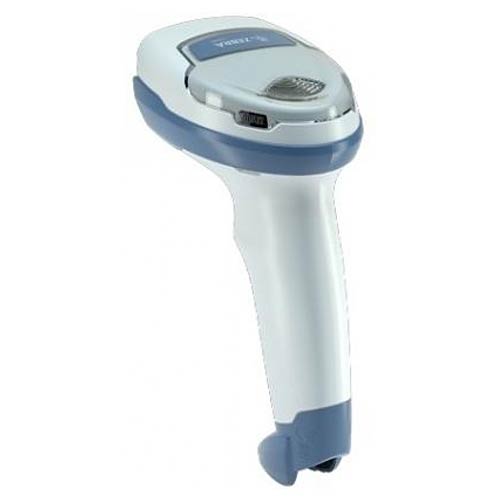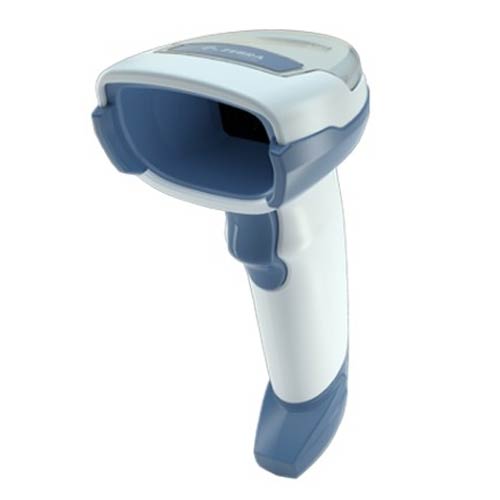 ---
Scanner Type

2D Area Imager

Connectivity

Corded

Form Factor

Handheld

Scanner Includes

Scanner Only [No Cable]

Scan Pattern

Area

Scan Range

Standard

Interface

Serial

USB

IBM PC

USB-A
---
Product Highlights
Zebra DS4608-HC, Corded, Scanner Only, Area Imager, Healthcare, Standard Range, HC White, Vibration

Full Specifications
Zebra DS4608-HC
Versatile Healthcare Scanner for your Whole Hospital
Every second of every day, data capture plays a critical role throughout the hospital. NICU nurses scan an ankle bracelet to confirm a newborn's identity. Nurses scan IV bags to record time and dosage. Pharmacists scan a medication's barcode to cross-check it with the prescribed dosage. And lab technicians scan barcodes to carefully track specimens. With the DS4600 Series for Healthcare, you get a single solution for all of these data capture needs—and more. Designed for use throughout the whole hospital, the DS4608-HC can withstand constant disinfecting at the point-of-care and has an LED aimer that is safe for use in the NICU. This versatile scanner accurately and easily captures virtually every barcode type found throughout the hospital, and includes innovative features that further boost workflow efficiency and the patient experience. Zebra's unique DataCapture DNA and industry-preferred management tools make it easier than ever to integrate, deploy and manage your scanners. The DS4600 Series for Healthcare—the performance you need to improve the quality of care, the versatility you need to simplify your scanner deployment throughout the whole hospital.
Hospital Ready
Scan it all with virtually no exceptions
In hospitals, there is no room for error—that's why the DS4608-HC is packed with features that ensure instant and accurate first-time, every-time decoding of virtually any barcode found at the point-of-care, pharmacy and lab. An 800 MHz microprocessor, high resolution megapixel sensor and Zebra's exclusive PRZM Intelligent Imaging technology combine to deliver unparalleled scanning performance on barcodes in any condition. The high density focus easily reads tiny and curved barcodes on medicine bottles, IV bags, syringes and more. And white illumination LEDs make it easy to scan barcodes on color-coded specimen trays and biopsy cassettes. This unmatched performance makes scanning easier than ever, enabling caregivers to focus on the patient, rather than the scanner.
Easy to sanitize—with the durability you need for daily use
Designed for use at the point-of-care, the DS4608-HC features a disinfectant-ready housing that can handle regular sanitizing with popular disinfectants. Screw holes and speaker holes are covered to mitigate the build up of bacteria. IP52 sealing protects against spills, while a patented double-sealed optical system protects the critical optical components from dust and liquid—ensuring that the 'eye' of the scanner always captures the sharpest possible barcode image for fast and reliable decoding. The recessed scan window protects against smudges, dirt and scratches, which can impact performance. And the scanner is built to survive multiple 6 ft./1.8 m drops to concrete and 2,000 tumbles in our punishing tumble test.
Flexible feedback modes—including night mode with vibrate
The DS4608-HC provides a feedback mode for every environment and situation. Workers can choose between haptic/vibration, a good decode LED that's easy to see from any position, a traditional beep tone with adjustable volume and frequency, and Zebra's Direct Decode Indicator that projects the illumination on the barcode. In night mode, a quick press of the trigger toggles between an audible beep and vibration. Healthcare workers instantly know that a medicine vial, wristband or specimen sample was properly scanned—while disturbing patients as little as possible.
Safe LED aimer is easy on the eyes
Thanks to a highly visible and safe LED-based aimer, the DS4608-HC can be used throughout the hospital—including the NICU where the use of laser aimers is not advised.
On-the-fly switching between handheld and hands-free scanning
In the lab and pharmacy, some tasks may be better suited for handheld scanning and others for hands-free. With the DS4608-HC, switching modes is fast and easy. Simply place the scanner in the optional presentation stand to automatically switch to hands-free mode; then pick up the scanner for handheld mode. The result? Peak efficiency—your staff is free to use whichever mode is optimal for the task at hand.
Do more with productivity-enhancing innovations
Single out one barcode from many
Zebra's Preferred Symbol simplifies and error-proofs data capture on blood bags and other items containing multiple barcodes. This innovative feature captures and outputs only the preferred barcode, so your busy healthcare staff no longer has to waste time physically covering nearby barcodes before scanning.
Capture multiple barcodes with one press of the scan trigger
With Multi-Code Data Formatting (MDF), the DS4608-HC can scan multiple barcodes with a single trigger pull and transmit only the barcodes you need, in the order your application expects.
Industry-preferred management tools
Effortless deployment
The DS4608-HC couldn't be easier to setup. Right out of the box, the scanner is configured for the healthcare applications you use every day, while auto-host detect cables automatically select the right host interface—just plug in the scanner and you're ready to go.
Easily deploy and manage all of your scanners
123Scan, a complimentary DataCapture DNA tool, is intuitive enough for first-time users. You can easily create configuration barcodes to program scanners, update firmware or stage a large number of devices. If your scanners are in multiple locations across the country or around the world, you can use the complimentary Scanner Management Service (SMS) to configure and update the firmware for any DS4600 Series device that is plugged into a host. No depot staging or user action is required—such as the scanning of a configuration barcode.
DataCapture DNA—transforming scanners from the inside
Simplify the entire scanning experience
Hardware is just the start of what you need to maximize the value of your scanners. The DS4600 Series is powered by DataCapture DNA, a set of unique development, management, visibility and productivity tools. Leveraging Zebra's 50 years of innovation, DataCapture DNA turns Zebra scanners into powerful tools that lower your TCO and help workers get more done each day. Decrease development cycles with development tools. Dramatically simplify scanner deployments of any size with management tools. Get the remote analytics you need to keep scanners up and running with visibility tools. And reach new levels of productivity with innovations that streamline tasks.
Temp. Out of Stock;
Available to Order This item is currently out of stock. This manufacturer may have options with similar features. Contact us for lead time or another product that may work for you. If you place the order now, we will inform you when the item will be ready. You will not be charged until the order is ready to ship.