Asset Labels
Tag, Trace and Track your valuable investments
Asset Labels Protect your valuable products with our variety of Asset Labels. Whether you need metal, polyester or destructible labels, we can supply you labels that are pre-printed with sequential information to track your unique products. These asset labels can be over-laminated for extra protection. Available in a variety of colors, sizes and adhesives in labels or tags. Considering RFID tags for expensive tools? Call us to see how we can help you set up an RFID System.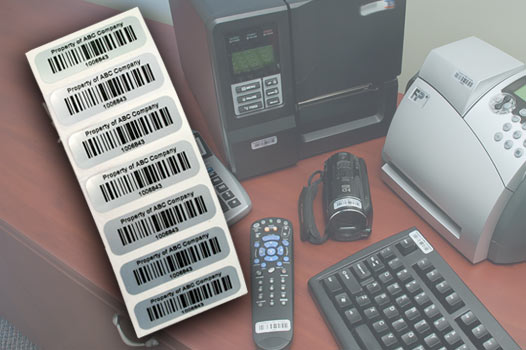 Stock or Custom Printed
Durability is important when making a label that will survive on your assets. We sell stock synthetic, vinyl and Mylar substrate labels in white and silver. You can print these labels yourself or have us pre-print your barcodes for you. Call 888-237-8525 and let us know your needs. Asset labels may require a different ribbon than the one you use to print shipping labels, give us a call.
Prevent Loss
Whether its tools, electronics or bins, putting a traceable barcode on every one is an easy way to prevent those products from disappearing. Once a data base of tools is created, scanning those parts at the end of a shift will keep them where they are suppose to be.
Alternative Asset Labels Another option for labeling assets is destructible labels which are durable but chip and peel if they are removed. We also offer metal plate labels or thicker substrate labels or tags.
For more information or to enroll, please fill out the form or call us at 888-237-8525.