Returns and Exchange Policy
Critical information for returning a product
Barcode Factory Return Policy
Customers must return the purchased product within thirty days of shipment to receive a refund (minus a 15% restocking fee).
Save all packaging for at least thirty days!
If you would like to exchange your product or return it due to a defect, you must have the original box and packaging it came with.
---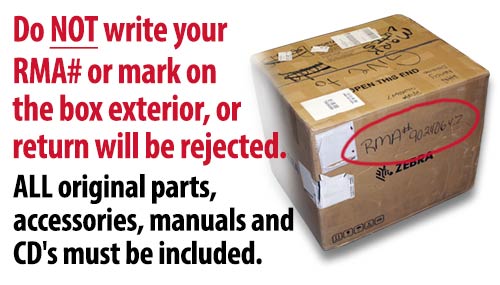 Requirements:
The package must be returned in its original box. Original foam padding will ensure it is returned in good condition. The box must not be written on and all original parts, accessories, literature and CDs must be included.
To return or exchange a product:
Call our experts for assistance at 1-888-237-8525
You will receive a Return Material Authorization (RMA) number for returns and exchanges in 2-5 business days.
When returning, write the RMA number ONLY on the shipping label, NOT the box.
---
Non-Returnable Items:
Non-returnable items include, but are not limited to: software, custom products (including custom labels and tags) and all OEM labels, ribbons and tags. All software manufacturers do not allow returns or refunds on opened box software or activated key codes.
The following hardware manufacturers have a non-returnable policy:
CAB Printers and all CAB printer parts require a 15% restocking fee for any return for any reason other than manufacturer defects.
TACH-IT products are non-returnable.
Avery/Novex printers and printheads are non-returnable for any reason other than manufacturer defects.
Epson Color Works printers are non-returnable for any reason other than manufacturer defects.
Any hardware item determined to have defects by the manufacturer can be returned or exchanged within thirty days of purchase, but must have all original packaging and all original materials in the box. For assistance or details on returns, contact your sales representative via e-mail or calling 1-888-237-8525.
To help you choose the proper labels and ribbons, Barcode Factory offers Free Samples! Simply complete our Sample Media Request Form.
---
For more information or to enroll, please fill out the form or call us at 888-237-8525.