Freezer All-Temp Adhesive Labels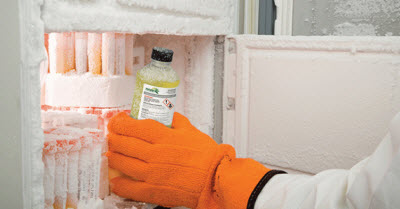 All temperature labels are also known as freezer adhesive labels. These labels are able to adhere to objects in a freezer at below 32F. Standard temp and cold temp adhesives will not adhere to objects in a freezer. All temp adhesives have a service temperature from – 65 degrees F to + 200 degrees F and can have a wide variety of face stocks with thermal or laser coatings.
If you are placing a label on a product in room temperature, a standard adhesive label will work fine. Any label that is required to be placed on the product in cold storage and especially freezer will require all temperature adhesive.
As a unique feature, many of the Barcodefactory stock labels are standard with freezer all temperature adhesive. Click here to see all of our stock All temp adhesive freezer labels. We can also manufacture any size, shape or special feature, (such as color labels), with freezer all temperature adhesive. Fill out the form or contact us and tell us about your project