Freezer Adhesive Labels
Labels that are applied in freezer conditions
Freezer Labels for Frozen Temperatures This includes all temperatures below 32°F and subzero temperatures in particular. Products like ice cream and certain medical materials need to be stored in a freezer or cryogenic settings. The freezer grade formula of the hot rubber adhesive can be applied at -15°F and maintains its stick in the temperature range of -65°F to 120°F.
All-Temperature Labels for Cold Temperatures When manufactured with hot melt rubber adhesive, these labels can be applied between 35°F and 120°F and can withstand a temperature range of 0°F to 120°F. When the labels are made with an emulsion acrylic adhesive, they can be applied in temperatures as low as 0°F and can continue to work in settings -65°F to 200°F. Due to the lower initial tack, they can have difficulty with frosty surfaces.
Stock Freezer Adhesive Labels Most of our common and lowest price thermal labels have freezer all temperature adhesive. Find them at Stock Freezer Adhesive Labels.
It's not just the adhesive- Frozen products and the cardboard boxes they are stored in endure a harsh environment while in the freezer and brutal condesation after they are removed. If your labels are failing it's because you aren't using the proper combinations of adhesive, face stock.
Thermal Transfer Freezer Adhesive Labels & Ribbons
If you are using thermal transfer labels, the proper thermal ribbon is important in these conditions. A premium grade wax is recommended for paper and a wax/resin or full resin is needed for synthetic labels with freezer adhesive. We can ship free test samples for your application. Contact us at 888-237-8525 or email info@barcodefactory.com
What's Available?
Many of our stock labels – most common sizes are standard freezer adhesive. Our Freezer Adhesive and All-Temp labels are available in direct thermal and thermal transfer in paper and synthetic. These labels all have a top coat to resist condensation and freezer adhesives that are either hot rubber for blast freezers or acrylic for All-Temp Cold applications.
Helpful Tips
Keep products clean and free if oil dust and residue.
Products and boxes must be dry.
Store labels at room temperature.
Avoid letting labels sit in cold temperatures while applying (label in small batches.
Do not apply directly to frosted products.
Know your "Wet-Out Time"- the time needed for the label to permanently bond.
Wet-Out Times
Hot Melt Adhesive- almost instantaneously
Emulsion Acrylic- up to 30 minutes
Solvent Acrylic- up to 30 minutes
Choose the label that meets your MAT and STR needs
Minimum Application Temperature (MAT)- Lowest temperature at which the label will function at tiem of labeling.
Service Temperature Range (STR)- Temperature range over which the adhesive will function while label is in use, and has reached its Wet-Out Time.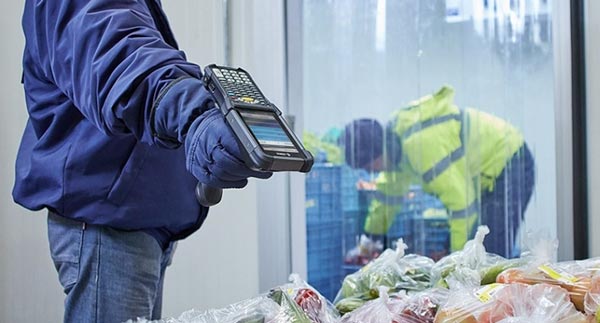 Need Freezer Grade Scanners or Printers?
Barcode Factory carries an impressive line of mobile computers, printers and heated enclosures to meet all your freezer warehouse needs. We also carry
Printer Enclosures
that can be heated for printing inside of freezers.
For more information or to enroll, please fill out the form or call us at 888-237-8525.