PTI Labels
Produce Traceability Initiative Labels
The Product Traceability Initiative Label, also known as the PTI Label, is an industry-wide effort to label and track produce from the field to the grocery store. This traceability process allows produce to be quickly and efficiently tracked by scanning a barcode label, adhered to produce cases from the grower's field, all the way to the grocery store. Barcode Factory offers everything you need to create, design and print PTI labels that meet GS1 standards and make it from the "field to the fork."
---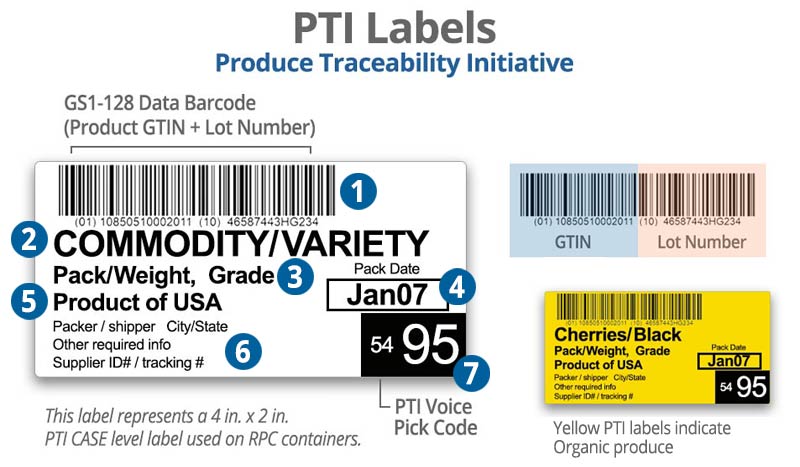 ---
Label Content Requirement Guidelines
The GS1-128 Barcode is broken into two parts. The GTIN Global Trade Item Numbers ®, which you purchase through https://www.gs1us.org, and the Lot Number, along with a Voice Pick Code. The barcode type is a Code 128, which meets PTI label standards and information size. Brand owners must provide their GTIN numbers with corresponding data to their buyer.

Note: your GS1 14-digit number can have different levels of complexity. Read this before purchasing your GS1 codes Best Practices GTIN Assignment Strategy

Company Prefix Pricing is available here: UPC Barcodes Prefixes Pricing

The balance of the label text is called the Human Readable and MUST be in ALL CAPS if possible. If product name is too long for all caps, upper and lower case is acceptable
The pack style is directly under the produce name and describes the pack quantity and weight
Pack date must include 3-digit month and date inside a boxed area
Country of origin. i.e. Product of the USA
Packer or shipper name, city, state and other information. May include a company logo
PTI Voice Pick Code- The Voice Pick Code is printed on the PTI label, and designed to integrate with the voice picking systems popular in large Warehouse Management Systems (WMS). The Voice Pick Code itself is a CRC16 Number that is created by combining the GTIN, Lot Number and pack date calculated into a 16-digit number. The Voice Pick Code represents the last 4 digits of that code
When picking cases from a mixed pallet, the voice picking system simply instructs the operator to read the Voice Pick Code on the label, and/or get verbal confirmation of the cases selected. Because the code is numeric, it is easy for voice pick systems to instruct/understand.
With the Voice Pick Code, the WMS can record all GTINs and Lot Codes (and dates) associated with a pick transaction, completing the traceability chain; this can be done without scanning the barcode on the case.
---
Custom PTI Labels for RPC Containers Quote Here
There are an additional six IFCO Certified labels available. For your Custom PTI Quote, please fill out the form below, or call us toll-free at 888-237-8525.

Minimum quantity is 10 cases.
---
PTI Application Label Types
PTI labels that meet "content" requirements are applied to multiple levels of produce shipping containers, from cases to pallets.
Reusable Plastic Containers (RPC) require a specific size (4" x 2"), face stock and adhesive, so they can be thoroughly washed off the container
Cardboard or disposable case level PTI labels use a standard adhesive and are generally also 4" x 2"
Hybrid Pallet Level labels use a combination of barcodes and text on a 4" x 6" (or longer) label that defines the entire content of a skid containing multiple case-level PTI labels and produce
Corner labels are a unique way to easily define case contents because they span two box sides. They can be case level or hybrid, describing multiple items within one case.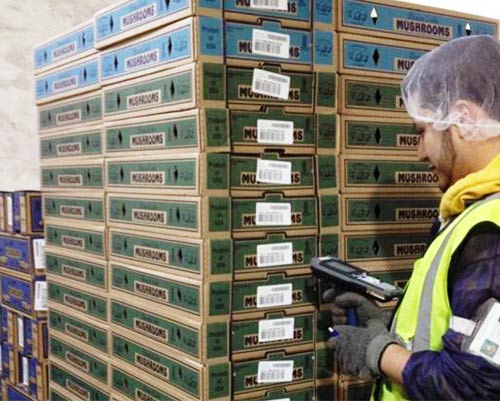 Cardboard Case Level PTI Label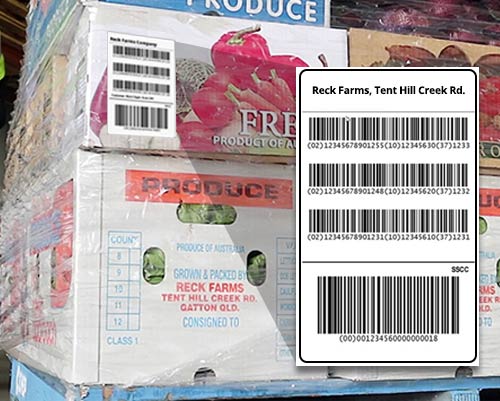 Hybrid Pallet Level PTI Label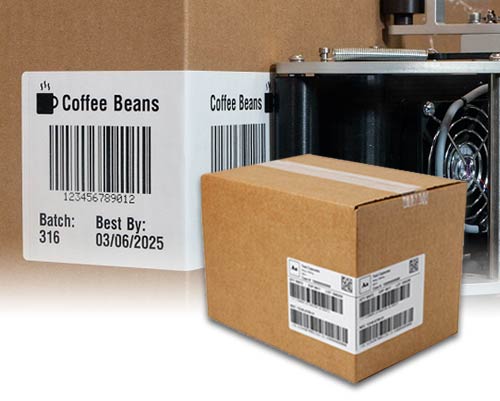 Corner Hybrid Case Label
---
Reference Sources
PTI Label Software
Review our PTI Software Solution page for PTI-compliant label creation software.
GS1 US- The Global Language of Business
Your first stop for understanding and purchasing your GTIN number. https://www.gs1us.org/
Produce Traceability Industry
Stay in touch with industry standards at https://www.producetraceability.org/