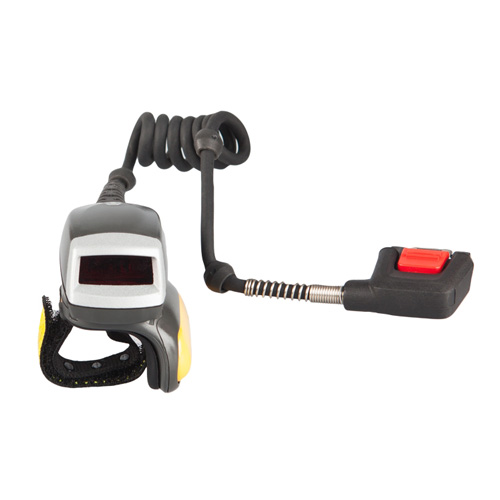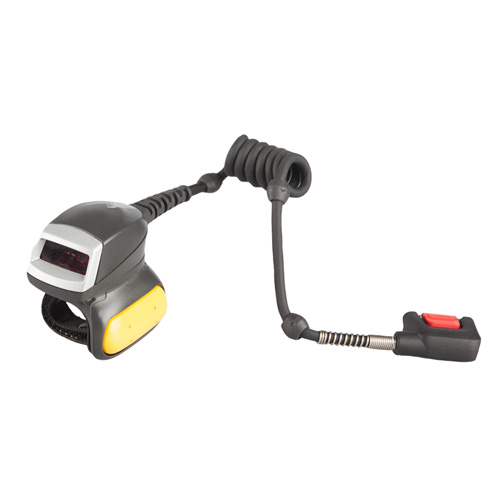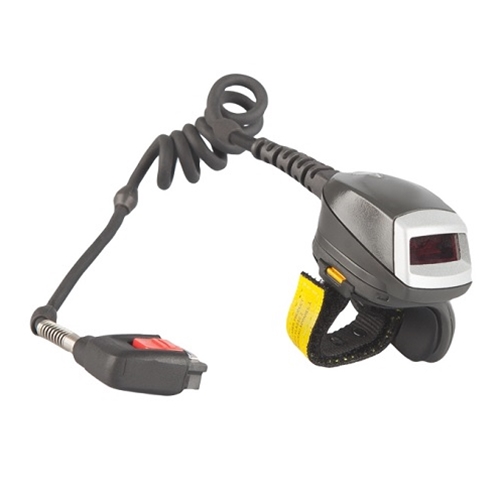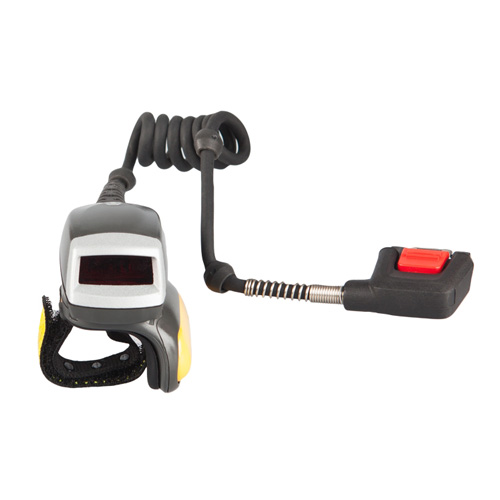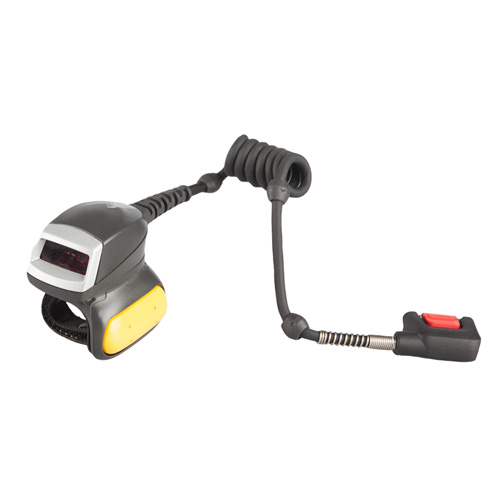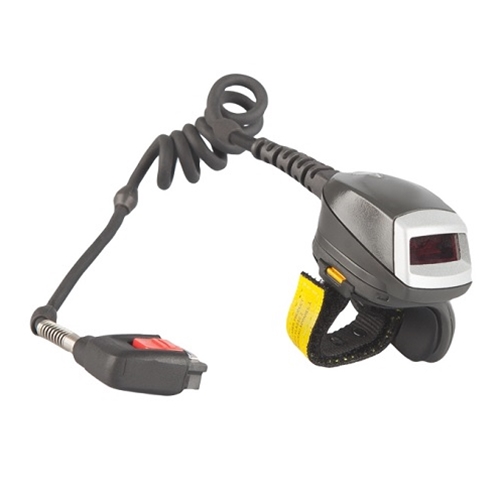 Zebra RS4000 Ring Scanner
---
| | |
| --- | --- |
| Connectivity | Corded |
| Scanner Type | 1D Laser |
| Form Factor | Ring |
| Scanner Includes | Corded Kit [Cable] |
| Scan Pattern | Single Line |
| Scan Range | Long Range |
---
Product Highlights
Zebra, RS4000 Corded Ring Scanner To WT6000 Wearable Terminal, Short Cable To Wrist

Spec. Sheet
Zebra RS4000
RS4000 1D Ring Scanner
POWERFUL HANDS-FREE 1D SCANNING FOR ZEBRA'S NEXT-GENERATION WT6000 WEARABLE MOBILE COMPUTER
Whether your workers spend their days moving products through your warehouse or retail store, or moving packages through distribution centers and onto trucks for delivery, every time they need to set an item down to check a paper work order or scan a barcode with a handheld device, their productivity decreases. But when you put the small and lightweight RS4000 1D ring scanner on the fingers of workers who are using Zebra's WT6000 wearable mobile computer, your workers are free to keep their hands and eyes on the items they are handling. The result? Worker productivity increases. And a split-second press of the RS4000 trigger verifies task accuracy and provides the real-time inventory visibility you need to eliminate out-of-stocks.
Give your Workers Hands-Free Scanning Power
Ring scanner design leaves hands free to move packages and other materials, improving worker productivity and operational efficiency.
Increase Productivity with a Wide Working Range
Our patented Adaptive Scanning technology allows workers to capture barcodes from near contact to 15 ft./4.5 m.
Two Scanning Modes
Workers can either press the trigger button once to scan a single barcode or keep the trigger depressed to continuously scan barcodes.
Capture Virtually any Barcode in Practically any Condition
With our advanced scanning algorithms, your workers can capture scratched, dirty, damaged and poorly printed barcodes, first time, every time.
A Patented Liquid Polymer Scan Element with a Lifetime Warranty
Friction and wear are eliminated, maximizing uptime and worker productivity, along with a low total cost of ownership.
A Bright Scan Line
The easy to see scan line ensures easy aiming for first-time capture of barcodes in virtually any lighting condition. And with an oversize LED light, users can easily see when a scan is successful.
Diecast Zinc Scan Engine Chassis, Single Board Construction and Scan Engine Isolation
Superior impact protection for the scan engine improves reliability in the event of a drop.
Cable Wear Beads
The areas of the cable most vulnerable to wear and tear are protected to help keep your RS4000 ring scanners looking like new.
Supports Reduced Space Symbology (RSS)
A broad range of scanning capabilities provides future-proofing, increasing your investment protection.
Convenient Swivel Feature
Workers can easily switch the RS4000 from right to left handed operation.
Separate Finger Strap Assembly
Give each worker their own easy-to-replace finger strap assembly to help improve hygiene and prevent the spread of germs.
Full Shift Power
The RS4000 draws very little power from the wearable mobile computer, preserving plenty of power for full shift operation on a single charge.
Temp. Out of Stock;
Available to Order This item is currently out of stock. This manufacturer may have options with similar features. Contact us for lead time or another product that may work for you. If you place the order now, we will inform you when the item will be ready. You will not be charged until the order is ready to ship.