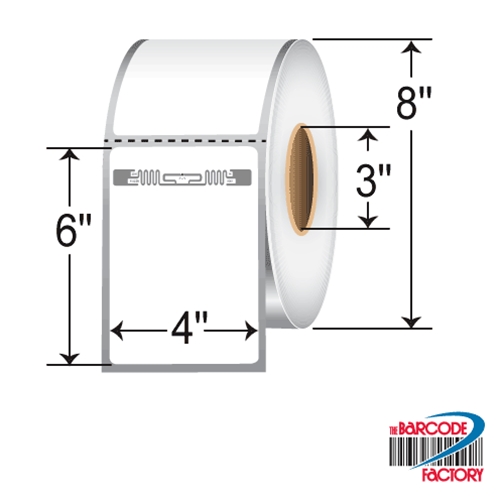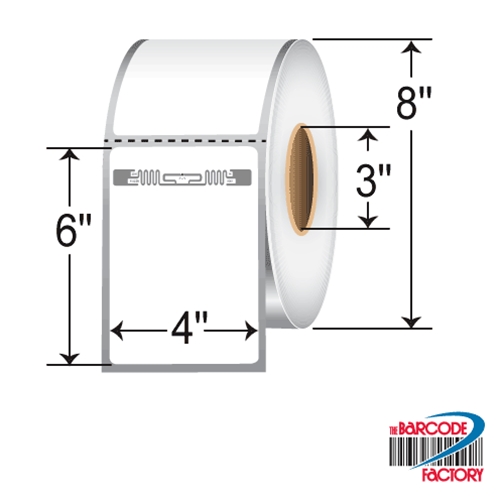 BarcodeFactory 4x6-inch RFID Labels
---
Labels by Printer

Zebra R110Xi4-R170Xi4

Zebra RZ400-RZ600

Zebra ZE500R

Zebra ZT410R

Zebra ZT420R

Print Technology

Thermal Transfer

Material Type

Paper Labels

Integrated Circuit

Higgs-3

Width (inches)

4.00 inch

Length (inches)

6.00 inch

Core Size

3.00 inch

Outer Diameter

8 inch OD

Format Type

Roll

Adhesive Type

Permanent

RFID Frequency

UHF

Color

White

Order Quantity

Per Roll
---
Product Highlights
Barcodefactory Thermal Transfer Labels, 4 Inches x 6 Inches, For Zebra RZ400/600 RFID Printers, Alien/Avery, Perforated, Higgs 3, 3-Inch Core, 8-Inch OD, 800 Labels/Roll, 5 Rolls/Case
*Available is less than full case quantities
A thermal transfer RFID paper label with a permanent acrylic adhesive. This is is suitable for apparel chain management applications, including the labeling of corrugate and plastic packaging materials. These labels can also be used for close coupling.
What is RFID and How Does it Work?
Radio requency identification, RFID, uses radio waves to automatically identify objects. Item data is stored on a microchip attached to an antenna, (called an "RFID transponder" or "RFID tag"). The tag transmits the data to a reader with it passes within range, and the reader can convert the signal to digital information that can be used by a computer for further processing.
How will RFID help my Business?
Radio frequency identification, or RFID, has many benefits:
Improved accuracy of tracking prduct and loction in the warehouse.
Reduce manual hand scanning saving labor costs
Retail shops can manually scan inventory in minutes not hours.
Unlike barcodes RFID chips can hold multiple fields of information.
RFID chips can be embedded in plastic for greater durability.
Warehouse deliveries can be scanned by simply entering the dock.
Retail shops can reduce product theft substantially.
Hospitals can increase secutiry of assets and patients.
RFID Important Basics for Chips Inlays and Tags
The metal electronic chip that can be embedded into plastic, label material or other weather proof devices are called Chips, Inlays or Tags.
These chips are basically data collection devices that hold a lot more inforamtion than a typical barcode. Putting information onto the chip is called "Encoding". Special RFID printers can Encode or wrote the information onto the RFID chip. You may also purchase RFID chips with your information already encoded or pre-encoded.
RFID Chips have two basic parts
1. A Microchip - for stroring data
2. An Antenna - for radio wave Reception or Transmission