Warehouse Rack Labels
Rack labeling solutions for organizing your warehouse
Warehouse Aisle, Bay, Rack, Level and Bin labeling can be improved using many types of rack labels or signage. The easier it is to see, scan and determine contents the faster your picking system is increased. Whether you need custom created labels, or want to print replaceable barcode labels yourself we have what you need.
Rack Label & Signage Solutions for receiving, storage, picking, pack & ship, and free-areas. The longevity and lifespan or your label depends on your environment and the label material you choose.

Additional Links
Barcode Placard Signs | Variable Data Labels | Bin Label Solutions
---
Rack Label Environment
Let us assist in choosing the right rack label material types. Freezer storage will require freezer-adhesives. Outdoor racking will require specialty materials with UV inks and warehousing with dust, grease and dirt will require durable and cleanable labels. We offer label materials for any environment and lifespan.
Rack Label Options
Our Multi-colored rack labels quickly describe and contrast their locations. Solid color-coated thermal labels or colored borders are great for self-printing.
Retro-reflective rack labels and signage is very durable and allows scanning from long distances.
Placard rack labels have a highly smooth release surface that provide a base for other, often changed, labels.
Magnetic rack labels are custom printed with your sequential information. Magnetic labels allow for complete warehouse re-organization.
Tag material is available on rolls for your own barcode label printing. These tags can be put into clear plastic pouches or plastic c-channel tracking.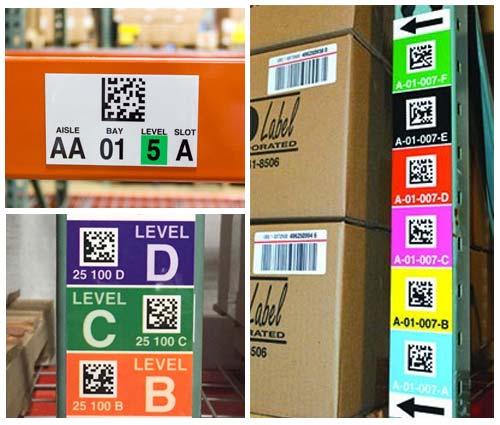 Consider 2D Barcodes
Standard barcodes only hold a limited amount of information. 2D barcodes, or QR codes can hold detailed information about what is stored in that rack bay, quantities, supplier information, dates of delivery, storage life span and much more.