Polypropylene Labels
Polypropylene Label Material
Polypropylene Labels
are a less expensive alternative to Polyester labels that offer a durable label with a life span of nearly one year. These top coated labels work well in moisture rich areas and a glossy finish. Used often for asset marking, drum labels and other semi-durable applications.
BarcodeFactory offers stock and custom labels with Polypropylene face stock and thermal transfer coating.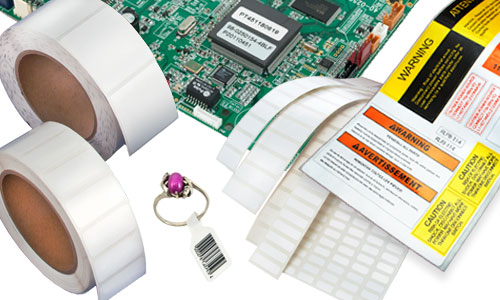 Applications Drum labels, package labels, asset labels, moisture rich environments and item tracking labels. Excellent substitute for polyester when the application requires a glossy finish, but not the durability of polyester.
Minimum Application Temperature

23° F

Service Temperature

-20° to 176°F

Outdoor Durability 6 mos - 1 year (depending on exposure conditions)
Tear Resistance Very slight stretch, does not tear easily unless nicked.
Surface Application Corrugate, paper, packaging films, most plastics, stainless steel and glass.
Description Top-coated, bi-axially oriented, polypropylene with general purpose permanent adhesive.
Other label stock material pages

Note: Label Stocks below are often referred to generically as "Synthetic Label Material"
For more information or to enroll, please fill out the form or call us at 888-237-8525.